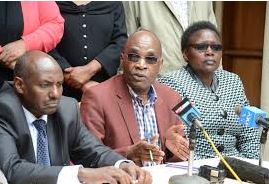 Up to the mid-1980, universities were acting as training institutions, to train for replacement of the expertise that had left after the Country attained independence and a few more for onward progression in the development of the Country. The jobs were available in all areas, in the public and private sector. As young lecturers we enjoyed teaching the existing traditional curriculums. The graduates rarely thought of self-employment as option. But in 1986, I recall that one graduate of the Department in the class of 1980 started a micro-enterprice in the processing of jams. He was then still in employment by the Ministry of Industry.
After 1986, the Government declared that there were not enough jobs for all the graduates from the Universities. The universities were turned into education institutions. There was panic everywhere, the graduates, the parents and the institutions. Teaching of traditional curriculums no longer seemed to be enjoyable. Incidentally even with this constraint, very few graduates dared venture like Muraguri into self-employment. There has up to today been a lot of inertia for the mindsets of the graduate and the parents ton change. Government must create jobs.
The universities, there are many today, have to do a paradigm shift in the way they teach. To start teaching for innovation identification and development – to the level of execution by self or others who are willing to buy it. Transform the mind-sets of the graduates to develop into thinkers, innovators and employers. The teachers also have to shift the paradigm of the way they teach. Many of them do not even know what innovation means. This is the only way we can join the rest of the World on this journey of the university evolution.
QUOTE
Then it used to be enjoyable to teach students whose hope for a future was glimmering in the eyes. These days with gaping eyes of uncertain future after graduation with very little clue about other safety channels besides salaried employment.
Item categories
General news